FRIDAY FINDS showcases the books you 'found' and added to your To Be Read (TBR) list… whether discovered online, in a bookstore, or in the library — wherever! (they aren't necessarily books you purchased). It is hosted by Should be Reading
So, come on — share your FRIDAY FINDS
Just as I began tucking into Catalyst by Laurie Halse Anderson (Friday finds #1), my tablet went kapooot. It won't turn on! So off I went to the Samsung 'experience centre'. And its gonna be two weeks before I get my baby back!! *Sigh*
This weeks finds are real life books…
Fangirl by Rainbow Rowell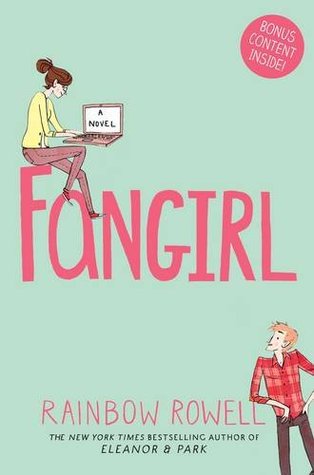 Blurb:
Cath and Wren are identical twins, and until recently they did absolutely everything together. Now they're off to university and Wren's decided she doesn't want to be one half of a pair any more – she wants to dance, meet boys, go to parties and let loose. It's not so easy for Cath. She's horribly shy and has always buried herself in the fan fiction she writes, where she always knows exactly what to say and can write a romance far more intense than anything she's experienced in real life. Without Wren Cath is completely on her own and totally outside her comfort zone. She's got a surly room-mate with a charming, always-around boyfriend, a fiction-writing professor who thinks fan fiction is the end of the civilized world, a handsome classmate who only wants to talk about words …And she can't stop worrying about her dad, who's loving and fragile and has never really been alone. Now Cath has to decide whether she's ready to open her heart to new people and new experiences, and she's realizing that there's more to learn about love than she ever thought possible …
This should be a fun read…
Lover Awakened by J.R Ward
Blurb:
In the shadows of the night in Caldwell, New York, there's a deadly war raging between vampires and their slayers. And there exists a secret band of brothers like no other – six vampire warriors, defenders of their race. Of these, Zsadist is the most terrifying member of the Black Dagger Brotherhood.
A former blood slave, the vampire Zsadist still bears the scars from a past filled with suffering and humiliation. Renowned for his unquenchable fury and sinister deeds, he is a savage feared by humans and vampires alike. Anger is his only companion, and terror is his only passion—until he rescues a beautiful aristocrat from the evil Lessening Society.
Bella is instantly entranced by the seething power Zsadist possesses. But even as their desire for one another begins to overtake them both, Zsadist's thirst for vengeance against Bella's tormentors drives him to the brink of madness. Now, Bella must help her lover overcome the wounds of his tortured past, and find a future with her…
Genuinely not sure if this will be my kinda thing, but I'm open to it… I guess I'll find out!