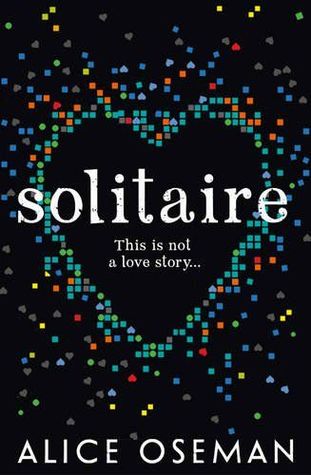 Goodreads Description:
In case you're wondering, this is not a love story.
My name is Tori Spring. I like to sleep and I like to blog. Last year – before all that stuff with Charlie and before I had to face the harsh realities of A-Levels and university applications and the fact that one day I really will have to start talking to people – I had friends. Things were very different, I guess, but that's all over now.
Now there's Solitaire. And Michael Holden.
I don't know what Solitaire are trying to do, and I don't care about Michael Holden.
I really don't.
This incredible debut novel by outstanding young author Alice Oseman is perfect for fans of John Green, Rainbow Rowell and all unflinchingly honest writers.
My Thoughts:
***4 stars***
First of all the cover tells you its not a love story….Well, it isn't. Thought its worth mentioning, because I still thought it would be.
An anorexic girl reading the hunger games, and the irony is too cruel to laugh at.
I just really like that sentence. So… there you go 🙂
The author was 17 or so when she wrote the book, I like that. You can really tell from the references she makes and I could really relate to them (although I'm not 17 waaaaah).  The book is about a teenager called Tori, and I'm not really sure what the overall plot/storyline is. Its kinda just about a period of time from Tori's life. The theme to me seems to be around how we can miss things that are often right in front of us. Tori couldn't see that she was depressed.
Alice touches on some very real issues like depression, eating disorders and homophobia. I particularly respect how she wrote about a guys battle with an eating disorder. Males struggle with this too and it is often underestimated. There were just so many harsh realities that she was not afraid to talk about. For example, the fact that hatred of certain groups of people sometimes stems from self hatred, And the idea that mainstream education can often leave people feeling unnecessarily unintelligent.
The adults in the book didn't seem very good at dealing with situations that arose. I mean, Tori's teacher essentially tells her to snap out of it (her depression)… But perhaps the author wanted the book to focus solely on friendships, and their importance in pulling people out of darkness.
So, I can't comment too much on the writing style or anything like that (It's not my forte for now). I think it was a good read, the ideas in the book were fresh and touched on many societal issues. I didn't give it 5 stars because I didn't feel giddy after I finished the book. I don't mean giddy in the sense of being ridiculously happy, because I know that's not the kind of book it is. But I mean, I finished the book and that's it. I won't be thinking about it for days to come. I'm pretty much just gonna jump right into the next book. For me what makes a 5 star book is one that makes me live the book past the last page. I hope someone gets what I mean…