FRIDAY FINDS showcases the books you 'found' and added to your To Be Read (TBR) list… whether discovered online, in a bookstore, or in the library — wherever! (they aren't necessarily books you purchased). It is hosted by Should be Reading
So, come on — share your FRIDAY FINDS
This week I signed up to borrow eBooks from my local library, perfect timing for my Friday finds debut! So of course I've been browsing, and I focused mainly on their YA section (surprised? No…). So, here's what I've got on my (e)Bookshelf
Cursed By Jennifer Armentrout
Blurb:
Dying sucks
…and high school senior Ember McWilliams knows firsthand.
After a fatal car accident, her gifted little sister brought her back. Now anything Ember touches dies. And that, well, really blows.
Ember operates on a no-touch policy with all living things–including boys. When Hayden Cromwell shows up, quoting Oscar Wilde and claiming her curse is a gift, she thinks he's a crazed cutie. But when he tells her he can help control it, she's more than interested. There's just one catch: Ember has to trust Hayden's adopted father, a man she's sure has sinister reasons for collecting children whose abilities even weird her out. However, she's willing to do anything to hold her sister's hand again. And hell, she'd also like to be able to kiss Hayden. Who wouldn't?
But when Ember learns the accident that turned her into a freak may not've been an accident at all, she's not sure who to trust. Someone wanted her dead, and the closer she gets to the truth, the closer she is to losing not only her heart, but her life.
For real this time.
I love the cover of this book! reminds me of the show 'Once Upon A Time'
We were liars by E. Lockhart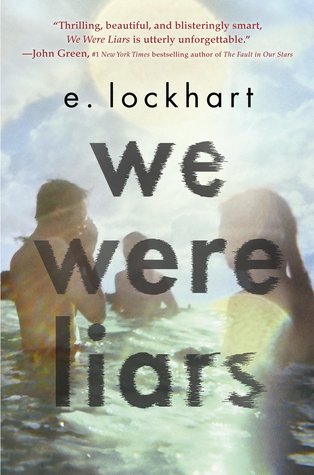 Blurb:
A beautiful and distinguished family.
A private island.
A brilliant, damaged girl; a passionate, political boy.
A group of four friends—the Liars—whose friendship turns destructive.
A revolution. An accident. A secret.
Lies upon lies.
True love.
The truth.
 
We Were Liars is a modern, sophisticated suspense novel from National Book Award finalist and Printz Award honoree E. Lockhart. 
Read it.
And if anyone asks you how it ends, just LIE.
I must admit, this one is less of a 'find' and more of a "I hunted it down because I've heard a lot about it and I really want to read it. I can't even believe it's taken me this long".
Catalyst by Laurie Halse Anderson
Blurb:
Meet Kate Malone-straight-A science and math geek, minister's daughter, ace long-distance runner, new girlfriend (to Mitchell "Early Decision Harvard" Pangborn III), unwilling family caretaker, and emotional avoidance champion. Kate manages her life by organizing it as logically as the periodic table. She can handle it all-or so she thinks. Then, things change as suddenly as a string of chemical reactions; first, the Malones' neighbors get burned out of their own home and move in. Kate has to share her room with her nemesis, Teri Litch, and Teri's little brother. The days are ticking down and she's still waiting to hear from the only college she applied to: MIT. Kate feels that her life is spinning out of her control-and then, something happens that truly blows it all apart. Set in the same community as the remarkable Speak, Catalyst is a novel that will change the way you look at the world.
 I like science too!