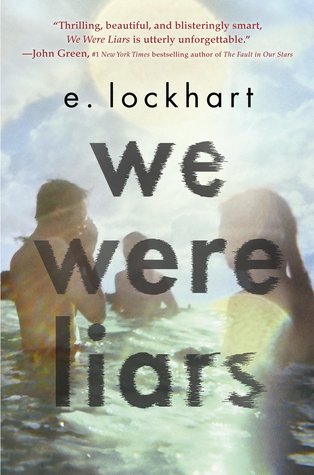 We Were Liars By E. Lockhart
Goodreads Description:
A beautiful and distinguished family.
A private island.
A brilliant, damaged girl; a passionate, political boy.
A group of four friends—the Liars—whose friendship turns destructive.
A revolution. An accident. A secret.
Lies upon lies.
True love.
The truth.
 
We Were Liars is a modern, sophisticated suspense novel from National Book Award finalist and Printz Award honoree E. Lockhart. 
Read it.
And if anyone asks you how it ends, just LIE.
My Thoughts:
***3 stars***
OK, so l did like the book. I enjoyed it, but it was VERY annoying at times. Lots of people have commented on the writing style, and I thought it wouldn't be that bad… But it is! It made me re-read sentences that I didn't need to, simply because they were so disjointed I couldn't understand them. Its ok for the blurb, but its unnecessary in the actual book
Its not just the short sentences, which wouldn't be so bad. Its the sentences that are literally broken up. That's one.
The blurb tells you there are secrets, Its emphasized. They are called 'the Liars' So obviously I'm gonna keep trying to guess the secrets all the way through the book 😦  I didn't guess right. But I was definitely too focused on trying to figure out the big huge secrets. There was only one big secret, and they didn't all actually lie about it. They couldn't? But anyway, That's two.
The characters didn't necessarily learn anything, or change for the better in my opinion. They are the same people, they are just a bit sadder. They are still rich, snobby, racist, self centered people by the end. That's three.
The book was also quite confusing at times. There was a point I thought the main character self harmed. But no, she was actually describing a feeling? But then she was bandaged up? So was she hurt? or whaaaaat? That's four.
Having said that, Its still a book I'm glad I read. The pacing is really good. It quickens a lot in the later chapters as the secret starts to unravel. I didn't see the twist coming… 😮 😮 😮 I was dry eyed though.
Is this book worth reading? Yes, but its quite flawed. Don't get too hyped.