FRIDAY FINDS showcases the books you 'found' and added to your To Be Read (TBR) list… whether discovered online, in a bookstore, or in the library — wherever! (they aren't necessarily books you purchased). It is hosted by Should be Reading
So, come on — share your FRIDAY FINDS
The lying game by Sara Shepard
Goodreads Description:
I had a life anyone would kill for.
Then someone did.
The worst part of being dead is that there's nothing left to live for. No more kisses. No more secrets. No more gossip. It's enough to kill a girl all over again. But I'm about to get something no one else does–an encore performance, thanks to Emma, the long-lost twin sister I never even got to meet.
Now Emma's desperate to know what happened to me. And the only way to figure it out is to be me–to slip into my old life and piece it all together. But can she laugh at inside jokes with my best friends? Convince my boyfriend she's the girl he fell in love with? Pretend to be a happy, care-free daughter when she hugs my parents goodnight? And can she keep up the charade, even after she realizes my murderer is watching her every move?
From Sara Shepard, the #1 New York Times bestselling author of the Pretty Little Liars books, comes a riveting new series about secrets, lies, and killer consequences.
Let the lying game begin.
I randomly picked this up at the library (still sans tablet 😦 ), then got home and had a look at some reviews on Goodreads. Which I really shouldn't have done. Recommended for 13-16 year olds? Whoops.
If I stay by Gayle Forman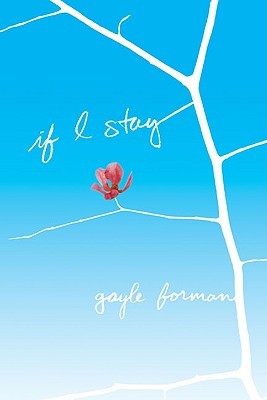 Goodreads description
Just listen, Adam says with a voice that sounds like shrapnel.
I open my eyes wide now.
I sit up as much as I can.
And I listen.
Stay, he says.
Choices. Seventeen-year-old Mia is faced with some tough ones: Stay true to her first love—music—even if it means losing her boyfriend and leaving her family and friends behind?
Then one February morning Mia goes for a drive with her family, and in an instant, everything changes. Suddenly, all the choices are gone, except one. And it's the only one that matters.
If I Stay is a heartachingly beautiful book about the power of love, the true meaning of family, and the choices we all make.
I really want to read this before the movie comes out