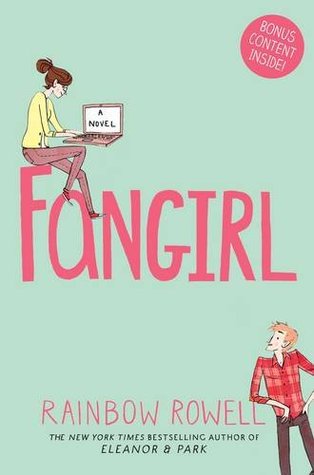 Blurb:
Cath and Wren are identical twins, and until recently they did absolutely everything together. Now they're off to university and Wren's decided she doesn't want to be one half of a pair any more – she wants to dance, meet boys, go to parties and let loose. It's not so easy for Cath. She's horribly shy and has always buried herself in the fan fiction she writes, where she always knows exactly what to say and can write a romance far more intense than anything she's experienced in real life. Without Wren Cath is completely on her own and totally outside her comfort zone. She's got a surly room-mate with a charming, always-around boyfriend, a fiction-writing professor who thinks fan fiction is the end of the civilized world, a handsome classmate who only wants to talk about words …And she can't stop worrying about her dad, who's loving and fragile and has never really been alone. Now Cath has to decide whether she's ready to open her heart to new people and new experiences, and she's realizing that there's more to learn about love than she ever thought possible …
My Thoughts:
***5 stars***
I loved the book!! I really really loved the book. Its an awesome coming of age book. Typical, the main character finds herself, grows into her own yadi yadi yada. I'm a sucker for that stuff sometimes. Cath is relatable! There is no major drama around her. A lot of the 'drama' is really just life. Stuff that sometimes happens to normal, everyday people who aren't filthy rich.
Cath and Levi made me melt. Levi isn't perfect!! <<<< How awesome is that? He doesn't even sound like he looks perfect. (Receding hairline at 20 something?!), he isn't the dark, broody tortured guy. He's just nice. and not even in a ridiculous, knight in shiny armour way. He's just the guy who shows up when you need him to. I actually really loved that she was smarter than him. In terms of reading and grades anyway, I loved that she was unapologetically so. And I loved that it didn't put a strain on their relationship.
Again we have an author that sneakily brings up important societal issues. Mental illness and ADD. Cath has grown up with her dad and knows his signs. She knows how to bring him back from the edge… <<<< Family is so freaking important! Cath's relationships with her dad and sister highlight that so much. Can she/will she ever forgive her mother?
I ADORE the fact that we are allowed into all her relationships. With family, friends, boyfriend and even crappy douchebags who try to steal her work. So many plots, and not one of them felt like it was put on a back burner.
I should mention I skipped all the Simon Snow fan fic. I own a physical copy of fangirl, so I'll probably re-read it. I'll read the Simon snow pages at some point. But I skipped it for now because I was too into the main story. No Distractions.
There was no major climactic ending. I felt some closure, but it felt like the story could go on. I don't know how the Author managed it!
Also… The moment the penny dropped. 'Cather' 'Wren'. Cannot believe how long it took me to put 2 and 2 together.
Overall this book just made me feel like… 'YAY to the introverts, We'll be OK.' ❤