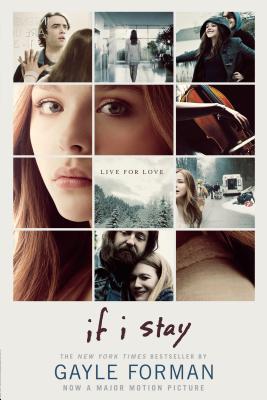 Goodreads description:
Just listen, Adam says with a voice that sounds like shrapnel.
I open my eyes wide now.
I sit up as much as I can.
And I listen.
Stay, he says.
Choices. Seventeen-year-old Mia is faced with some tough ones: Stay true to her first love—music—even if it means losing her boyfriend and leaving her family and friends behind?
Then one February morning Mia goes for a drive with her family, and in an instant, everything changes. Suddenly, all the choices are gone, except one. And it's the only one that matters.
If I Stay is a heartachingly beautiful book about the power of love, the true meaning of family, and the choices we all make.
My Thoughts:
*** 3.5 stars***
 Mia and her family have been in a crash, the car is a wreck. "You wouldn't expect the radio to work afterwards. But it does." This line made me so sad, it just highlighted how random life can be sometimes. Of all the things to keep going, not a human heart, not a lung, not a kidney, a radio.
It took me up till 10:12 am (chapter 4) to actually notice that I got into the book straight away! There was no initial lull, that I get with some books as the scene is being set. Right from the beginning I felt like I was halfway into the story! I don't know how the author achieved that. But kudos.
Now, I got into it really well… but then it lulled and I just kept putting it down. It got a bit slow in the middle as there were too many flashbacks, which is understandable since it's a book about a near death experience but I did struggle. There are areas of 'If I Stay' that are ridiculously cheesy and borderline cringe-worthy (Not for everyone but I enjoyed them).
This was another book with weird style adults… The parents seemed like teenagers themselves. Almost like a kid in a western high school who'd just been grounded, described what their perfect parent would be like. Then a fairy godmother appeared and made it happen.
This book started well in my opinion, got a bit tedious in the middle, then was OK again at the end. Although it gets an above average rating from me because of how it made me feel. It made me think about the people in my life, and all the reasons I would stay. Mia got to decide whether or not to let go, perhaps at the end, for everyone no matter the circumstances, there is a choice. I feel optimistic, maybe so many choose to let go, because there is something truly great on the other side.