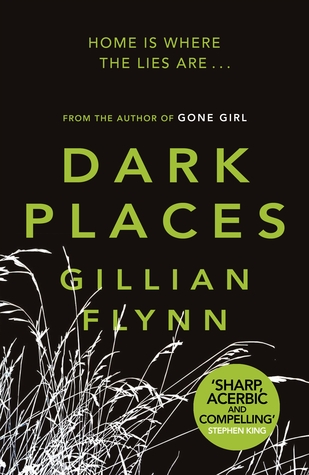 Review:
***4 stars***
Dark places by Gillian Flynn is a thrilling ride. We are taken on a journey, alternating between present day and 1985 when Ben Day allegedly massacred his family. Libby his youngest sister is the only one who survives to testify against Ben, sentencing him to life in prison. In the present day, dwindling funds force Libby down a path that leads her to question what really happened to the Days.
As a reader of mystery/thriller stories its natural to analyse every bit of the story and information given. Gillian has written 3 novels so far, and just as in Sharp Objects and Gone Girl I found myself coming up with my own theories. And in true Flynn fashion every single one was wrong. In Flynn novels once you are right up to the last few chapters, you feel proud that although its been a roller coaster, you do in fact know the identity of the culprit. But beware, Gillian has other plans.
 Flynn has an incredible talent for delivering a satisfyingly surprising end. She creates a world where everyone is suspicious, every single character is questionable and just might be capable of murder. Read these books, because my oh my they really are something.
Happy Reading ❤